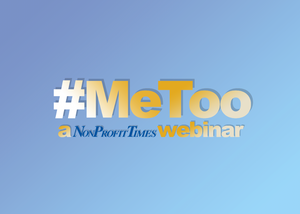 Webinar: Combating Inappropriate Workplace Conduct at Nonprofits, a NonProfit Times Webinar
Regular price $29.00 $19.00 Sale
Several high-profile nonprofit executives have recently been accused of inappropriate workplace behavior and either fired or forced out of their jobs. Sexual harassment, bullying and other forms of inappropriate behavior by managers and staff have no place in a work environment. The NonProfit Times presents three experts in the field who will instruct on legal ramifications, process and internal management unique to the nonprofit sector.
Speakers

Lisa Brauner: Attorney (Perlman & Perlman)

Lisa Brauner focuses in the area of employment law, advising and representing employers in workplace law-related matters. She counsels and advises employers in many aspects of the employment relationship, including avoidance of litigation, wage/hour compliance, preventing unlawful discrimination, harassment, and retaliation, reductions-in-force, lawful hiring and terminations, disability, pregnancy and religious reasonable accommodation issues, as well as compliance with federal, state and local laws and regulations. Lisa conducts trainings on preventing unlawful discrimination and harassment and independent investigations of internal complaints of unlawful discrimination, harassment, and/or retaliation.

Melanie Herman: Executive Director (Nonprofit Risk Management Center)

Melanie Lockwood Herman and the center's experts provide training, technical assistance and information resources to help nonprofit managers take a practical approach to risk. A prolific author of a more than a dozen comprehensive (and comprehensible) guides on various risk management topics, Melanie has delivered countless workshops, seminars, and keynote presentations for organizations simply unwilling to leave success to chance. She is a member of the District of Columbia Bar Association. In August 2017, Melanie was included in The NonProfit Times Power & Influence Top 50. It was her ninth appearance on the list.

Tycely Williams: Vice President of Development (YWCA USA)

Tycely Williams has raised and managed more than $80 million dollars for nonprofit organizations. Prior to YWCA, she was a Regional Chief Development Officer for the American Red Cross. During the past 18 years, she served as the Association Director of Major Gifts at the YMCA of Metropolitan Washington, founded and led a consulting company, worked as a Director of Development for two health and human services organizations. Tycely holds an Executive Masters in Leadership from The McDonough School of Business at Georgetown University and is a cum laude graduate of Wake Forest University. She earned a certificate in Nonprofit Management from Duke University and a certificate in Professional Fundraising from Boston University.