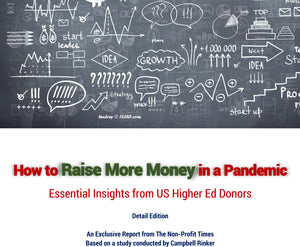 How to Raise More Money in a Pandemic (Detail Report - 84pp)
Regular price $49.00 Sale
Everything your school does in response to the pandemic can change how your donors and alumni feel about giving.  A timely new report from The NonProfit Times tells you how.  We're offering immediate, relevant insights to help keep your higher education donors engaged and boost advancement revenue. This data is available exclusively from The NonProfit Times.
Post-pandemic, higher education donors are SEVEN TIMES likelier to say schools have greater need than to say they have less need.  Are you prepared to capitalize on this groundswell of support?  
The report shows how donors are likely to react – positively or negatively – to actions your school might take during or after the pandemic.  It's a road map for how to avoid costly missteps in its advancement messaging.  And if the worst happens, it describes when you can expect a return to normal.  
The results come from a new July 2020 study among 688 donors who gave an average $960 to higher education in 2019.  The findings are rich in context and depth, fielded by research firm Campbell Rinker alongside a broader study of US donor confidence. 
See the table of contents 
HERE