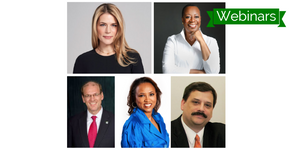 Webinar: After Davos – Implications For U.S. Nonprofits.
Regular price $19.00 Sale
The World Economic Forum brought together world leaders and focused on issues that involve nonprofits around the globe. We'll unpack some of the discussions and discuss potential opportunities and challenges for U.S. nonprofits. The WEF doesn't just impact the largest nonprofits. The effect is also felt on the local level. The WEF is the rare place where government, business and civil society leaders are in the same room.
Alison Moore, CEO (ComicRelief US)

Cheryl Dorsey, President & CEO (Echoing Green)

Jonathan Reckford, CEO (Habitat For Humanity International)

Angela Williams, CEO (United Way Worldwide)
Paul Clolery, VP & Editorial Director (The NonProfit Times)